I enlisted in the U.S. Navy in 1974 at age seventeen where I ended up serving twenty-two years as an Electronics Technician. During my career I served on the nuclear fast attack submarine USS Scamp (SSN 588), deep-diving research submarine USS Dolphin (AGSS 555), submarine tender USS Dixon (AS 37), and the commissioning crew of Aegis cruiser USS Port Royal (CG 73). I also served a tour as technical instructor/Master Training Specialist and a tour with NATO, stationed in Naples, Italy. It was during my instructor tour I discovered I enjoyed teaching and developing curriculum.

I retired from the Navy in 1996 and started a second career which evolved into military logistics for the shipbuilding industry. From March 2008 to August 2020 I worked as a logistics consultant to the U.S. Navy and U.S. Coast Guard. In August 2020 I was hired into government civil service, U.S. Coast Guard, where I expect to work until my second career retirement.

Military logistics includes training and training programs development as one of the elements, and I have managed to periodically work in training over the years.  A few years ago I started teaching adult English Second Language (ESL) classes as part-time work. Teaching adult education classes reminded me of how much I enjoyed teaching, and I decided it was time for me to pursue a degree in education.

My wife Weifang and I make our home in Northern Virginia. My hobbies include photography, kayaking, boating, and hiking in local parks and wildlife conservation areas. We also travel as much as possible.
Always do what you're afraid to do.

Robert F. Kennedy
I am now at the end of a two-year Graduate MEd program in Curriculum & Instruction, Concentration Instructional Design and Development. I am also coming up on the end of my second career. Earning my Graduate degree is more about self-satisfaction and a feeling of accomplishment than any career goals.

My greatest goal is retiring from full-time work and daily commuting. Most of my life has been spent focused on work, and I have decided this is my time to focus on recreation. My personal goals include learning how to fish, improving my kayak-paddling skills, and spending more time boating, hiking, and traveling for fun. I do recognize I need to keep mentally active by continuing to use my professional skills as long they are secondary to personal goals – and do not require daily commuting. Enforced, extended, working-at-home due to the on-going pandemic has only reinforced my desire to not spend hours each day driving to an office.

My career goals at this point in my life are about giving back to my community and sharing some of what I have learned. More than just sharing knowledge, I hope to inspire other people into overcoming self-imposed limitations and stretching into new accomplishments. Adult education is my planned vehicle for pursuing these career goals. My instructional design degree provides me the tools.

Over the duration of this graduate program my goals for working in adult education have become focused on the area of vocational training. This is as much a result of my own background as it is a recognition that far too many younger people simply do not understand the joy of building things. I plan to build adult training programs in the areas of:

1. Vocational and career development courses focused on adults who, for whatever reason, did not gain much from their K-12 education and are looking to improve their job prospects. This includes people whose native language is not English, and people with mild learning difficulties.

2. Military Logistics training. This is the field I have worked in for the past twenty-four years, and I have become a recognized subject-matter expert among my peers. The few training programs available for military logistics are at the level of program management and policy, leaving a large need for vocational-level training. I hope to develop training programs focused on job performance skills needed throughout the logistics industry.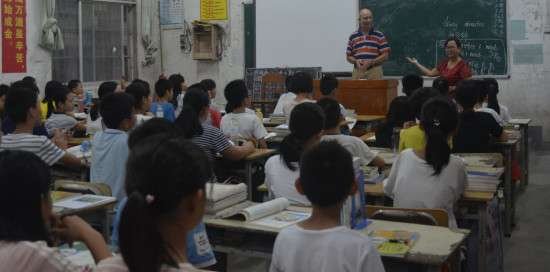 Ron Teaching ESL In China
Ron's wife Weifang grew up in a small town in Southeastern China. Her older sister Yunfang, still living there, is a middle-school English teacher. Ron was the first native-English speaker Yunfang had ever met, having learned her English from a Chinese teacher who in turn learned English as a second language. Whenever Ron and Weifang travel back to China to visit family, Ron is invited to teach at least one English class as a guest teacher at Yunfang's school. This picture was taken in 2017 on Ron and Weifang's most recent China trip.
This website is designed to highlight my college Instructional Design work, and provide more background on my professional experience. The navigation bar at the top of each page allows visitors to view my graduate school Curriculum, Resume, Competencies as defined by the International Board of Standards for Training, Performance and Instruction (IBSTPI), and Artifacts showcasing my best college work to date created as class projects. My Artifacts page also includes reflections on how each project helped improve my instructional design skills and self-confidence. Finally, my Email is provided on each page in case anyone wishes to contact me.

Please feel free to browse around. Feedback is always welcomed, and ideas for instructional design projects are welcomed even more!